By: Adam B.
Category: Yoyo Tricks » Yoyo String Tricks (1A) »
Left Handed?
Get more help on Discord.
Learn Kwyjibo, a classic hop yoyo trick.
For this yoyo trick we recommend: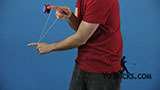 Kwyjibo Yoyo Trick
This trick is called Kwyjibo and it looks like this.
Kwyjibo, as you have seen is just a series of hops. You are actually going to hop the yoyo from a single, to a one-and-a-half, and then to a double. But instead of doing it the way I did it here just passing the yoyo from one to the other, you are actually going to hop the yoyo off the string right onto another string. I'm going to show you how those work.
The first hop is probably the most difficult, and that is where you go from your single to your one-and-a-half. I'll show you that. Just go from your single, and you are going to cross your hands and catch it. Now you are actually in a one-and-a-half mount. What you will notice is that when you cross your hands and hit the string, you want to hit the string very close to the yoyo because that is going to help you catch it right on the string. So I will show you that again… just like that.
To get into your double you are going to uncross your hands and then cross them the opposite way. This sets you up for your double. All you are going to do is throw the yoyo up, uncross your hands, and you want to make sure to catch the yoyo on the outside string. That will set you up for your dismount which you have already learned from Double or Nothing.
Once you put all of those different elements together you want to make sure that you put them together as smooth as you can. I'll show it to you one more time, and again, this is Kwyjibo.
Tricks You Need To Know To Learn This Yoyo Trick: