2A #25 Two-Handed Reach for the Moon Yoyo Trick
By: Connor S.
Category: Yoyo Trick Sport Ladder »
Add a comment to this video on YouTube.
Two-Handed Reach for the Moon, trick #25 of the 2A Looping Trick Ladder of the Yoyo Sport Ladder. 
For this yoyo trick we recommend: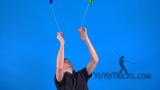 2A #25 Two-Handed Reach for the Moon Yoyo Trick
This is trick number 25 of the Looping Trick Ladder. It is called Two-Handed Reach for the Moon, and it looks like this.
One, Two, Three, Four, Five, all the way up until at least 10 repetitions.
A few things to note. You can perform the Shoot the Moons either simultaneously, like this. Or you can perform them alternating, like this. A few other things to note, is if you are performing them alternating you want to make sure to start the count on the Shoot the Moon that comes out second. In this case my right-hand is the one that performs the count. You also want to make sure that you do not count your Shoot the Moons too fast. You want a full forward and back motion to be counted as one rep. You do not want to count it as one, two repetitions like so.
Other than that, that is Two-Handed Reach for the Moon.