1A #22 Kamikaze Yoyo Trick
By: Adam B.
Category: Yoyo Trick Sport Ladder »
Add a comment to this video on YouTube.
The Kamikaze, trick #22 of the 1A String Trick Ladder of the Yoyo Sport Ladder. Learn the Kamikaze Yoyo Trick Here.
For this yoyo trick we also recommend: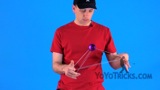 1A #22 Kamikaze Yoyo Trick
This is trick #22 of the 1A Yoyo Trick Ladder, it is called
Kamikaze
, and it looks like this.
When you do this trick for the trick ladder, the first thing you are going to want to do is get into what we call a Houdini Mount. Sometimes when you do the trick Kamikaze you may just set the yoyo on this bottom string here and let it off your thumb. For the trick ladder what you are going to want to do is throw the yoyo up towards this top string and then release it off of your thumb like that. Then you pretty much do the rest of the trick like you would expect. Roll it over your yoyo hand, get it onto the back string, hop it straight up, get it back into your Trapeze, perform your Magic Drop – making sure to hit the back string – then you are going to do your rolls, just like you normally would, set the yoyo back onto the string and get it back into a Trapeze. Bring it back to your hand any way you wish.
That is Kamikaze.
Tricks You Need To Know To Learn This Yoyo Trick: