Assisted Mach 5 Yoyo Trick
By: Brian D.
Category: Yoyo Tricks » 3A Yoyo Tricks »
Get more help on Discord.
Learn the 3A Yoyo Trick the Assisted Mach 5.
For this yoyo trick we recommend: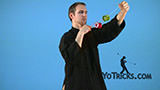 Assisted Mach 5 Yoyo Trick
This trick is the Assisted Mach 5, it looks like this.
This trick is just like your normal Mach 5, except that you are going to be doing the trick over your opposite hands yoyo. To start, get into an Assisted Split-Bottom Mount. You are going to start by doing one Barrel-Roll, then just like in Mach 5 you are going to take your opposite hand's yoyo and go over, then under. Pull tight and do a Mach 5, keeping your hands nice and straight. To dismount end with your dominant hand in back, pinch the string, pull forward. You can drop both yoyos, bring them back to your hands.
That's the Assisted Mach 5.