Koi Yoyo Review Yoyo Trick

Core
By: Adam B.
Category: Yoyo Videos » Yoyo Reviews »
Get more help on Discord.
Our 90 Second Review of the Koi Yoyo by YoYoFriends.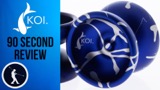 Koi Yoyo Review Yoyo Trick
The Koi is a yoyo designed by YoYoFriends, known in the yoyo world for their high standards, and their exquisite products. The Koi itself is a full-sized organic yoyo that has a nice finish that is great for a wide variety of tricks.
The first thing that you are probably going to notice about the Koi is this nice rounded organic shape. You might know that organic shaped yoyos don't tend to play as fast as yoyos with a more angular design. The nice thing about this is if you are really into tricks that are defined by "flow", this is tricks that constantly move and change direction, where the yoyo never stops, it allows you to control the yoyo a little better during those tricks. In order to keep the yoyo from playing too sluggish, YoYoFriends did give this a very even weighted profile, so the yoyo doesn't tend to resist you very much at all if you want to push it to go a little faster, or even if you want to push a little lateral movement. On top of that, organic shaped yoyos are always particularly good at rejections, so this opens up the Koi to a wide variety of tricks.
The Koi features a very nice matte finish that is great for grinds, but it is also a little bit shinier and somehow brighter than most matte finish yoyos. It does come in a wide variety of splash and acid wash colors. It also features a CenterTrac style bearing, and a 4.4mm gap width, which means you are going to get pretty easy, tight binds, but there is still enough room in there for a lot of string loading for complex tricks.
If you are in the market for an organic yoyo, and you want something that is of the highest quality and an attractive design, then the Koi is definitely for you.
There are no yoyo tricks you need to know before learning this trick with your yoyo.