Barrel Rolls Offstring (4A) Yoyo Trick

Core
By: Adam B.
Category: Yoyo Tricks » Offstring (4A) Yoyo Tricks »
Left Handed?
Get more help on Discord.
Learn how to do Barrel Rolls with an Offstring Yoyo (4A).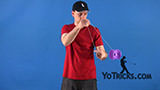 Barrel Rolls Offstring (4A) Yoyo Trick
This trick is offstring barrel rolls. It looks like this.
This is actually one of the easier offstring tricks that you can learn so it is not a bad place to start. All you're going to do is, of course, throw it and get it on the string. You are going to take your yoyo hand and just hold the string, just like this. All you're going to do is stick your finger of your opposite hand in between these two strings, and then you are just going to roll the yoyo right over it.
Just swing the yoyo forward. When it is out in front just pull up and it should just naturally go over the finger of your opposite hand. You really do not want to over-complicate it, that is really just as simple as it is. Just swing it forward; pull up. Like that. It is really all about the timing, but it does not take too long to get just right. Once you feel the rhythm you will master it pretty quickly.
To stop just pull your finger back out and wind the yoyo back up. That is Barrel Rolls offstring.