Warp Drive Yoyo Trick

Core
By: Adam B.
Category: Yoyo Tricks » Looping Yoyo Tricks »
Left Handed?

Get more help on Discord.
Learn how to do the Looping Yoyo Trick Warp Drive.
For this yoyo trick we recommend: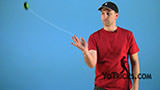 Warp Drive Yoyo Trick
This trick is called Warp Drive, and it looks like this.
That's it. As you can see, it is really just a combination of Looping into an Around the World and Looping again. This trick, there is actually not a whole lot of new technique to making it work. What it is really about is just controlling your loops. Once you really have your loops under control, then you can throw them into an Around the World and bring it back in, and it just shows that you have mastery over looping and around the world.
To try to explain how it is done, there is not a whole lot to it. I will give you a couple of tips. One thing, obviously, your loops are going to come right back to you, so if you want to go into an Around the World, you do need to cushion it a little bit when you throw it out. That will allow it to sleep and go around. Just like you already know from Around the World, wherever the yoyo stops its motion it is going to come back. You want to make sure that you do not slow the yoyo down until it is coming in front of you again. It's a lot easier if, when you slow it down, you bring it really slow right to a stop in front of you and bring it back. That will help you regain that control, especially when you are learning the trick to get it down and just keep things moving.
Other than that, because it is one of those tricks that is dependent on really solid technique it takes a long time to learn, but as you can see when I go from my loop to Around the World my technique isn't really all that different. It is very similar to a loop, except you are just throwing it around just a little bit more. What is nice about it is it helps you perfect the technique for your loop. It is a little bit more impressive. You can just keep going into Around the Worlds once you have mastered it.
That's about it. That's the Warp Drive.