Hop the Fence Yoyo Trick

Core
By: Adam B.
Category: Yoyo Tricks » Looping Yoyo Tricks »
Tagged: First-50
Left Handed?
Get more help on Discord.
Hop the Fence yoyo trick how to video.
For this yoyo trick we recommend: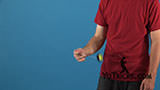 Hop the Fence Yoyo Trick
This trick is called Hop the Fence. It looks like this.
When you are doing this trick it is important to know that the string is going to get tighter if you are right-handed; it's going to get looser if you're left handed. So, once you've got that, you're ready to work on the trick.
When you're doing this trick, you throw the yoyo down and on its way back up, right when the yoyo get's to about here, what you're going to do is push your yoyo hand forward, right over the yoyo, and that's going to cause the yoyo to flip over.When I do the trick you will actually notice that my hand flips while the yoyo flips. You don't actually have to do that. You can do the trick with your hand staying upright. But, for whatever reason it gives you a little bit more control to flip your hand, and that will actually lead nicely into some more advanced tricks like the punching bag. So it's a good idea to get that motion down right away.
Just like any looping trick, Hop the Fence is not the easiest trick to master, but keep working on it. It's a gateway to a whole bunch of other tricks, and you'll love it.