Intro to Trades – Lighthouse Trade In Kendama Trick

Core
By: Cory H.
Category: Kendama Tricks »
Tagged: Balance-Tricks, First-50-Tricks, Spike-Tricks, Trade-In
Left Handed?
Get more help on Discord.
We introduce you to Trades and teach you Lighthouse Trade In.
For this kendama trick we also recommend: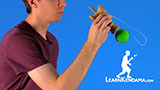 Intro to Trades – Lighthouse Trade In Kendama Trick
In this video we're going to be introducing you to
Trades
by showing you a couple different ones and are also going to be teaching you the first introductory Kendama Trade Trick, called Lighthouse Trade In.
So a Trade is when you are switching grips from either holding the ken to holding the tama, or vice versa, holding the tama to holding the ken. An example of this would be Base Cup Trade Lighthouse, where you start of by holding the ken and then you pop the tama up trade grips to hold the tama, like this. We'll be teaching you this in a later video.
Another example would be Lighthouse Trade In, where you start by holding the tama and your going to trade grips to holding the ken and end up on the spike. Now, let's learn Lighthouse Trade In.
Your going to start off by knowing the trick Lighthouse. If you don't know this trick, check out the video we did on it to make sure you have that mastered. Start off with the hole of the tama facing upwards, performing a Lighthouse. You then want to use your knees and pop the ken up like this. While you're doing that, you're going to rotate the tama in towards your body so that you can see the hole. You want to rotate it 180 degrees so that it will land on the spike.
Practice rotating the ball downwards and popping the ken up simultaneously because you really want to make sure you can do that. Then you're going to use your knees and really pop the ken up, and you're going to grab the ken by trading grips and you're going to bring it underneath the tama and into the hole of the tama to land it on the spike.
Now an easier way I found out to do this, which I find more comfortable, you're going to have the hole of the tama facing outwards and when you do your Lighthouse instead of twisting the ball you're actually just going to move your arm to the inside of your body while you pop up with your knees. This will allow gravity to help more bring the ball straight down, and you're not risking the chance of spinning the ball downwards too much and potentially missing the hole. You're just going to bend down and swing inwards and pop up, trade, and go into the spike.
And that is how you do the trick Lighthouse Trade In.