The Creeper Yoyo Trick

Core
By: Adam B.
Category: Yoyo Tricks » Beginner Yoyo Tricks »
Left Handed?
Get more help on Discord.
The Creeper yoyo trick video.
For this yoyo trick we recommend: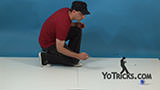 The Creeper Yoyo Trick
This trick is called the creeper and it is a whole lot like
Walk the Dog
except, instead of just walking forward with the yoyo, you're going to swing the yoyo forward on the ground, kneel down, and bring the yoyo back to your hand while it's still on the ground. Like I said, it's not too difficult. So, all you do is you throw your sleeper, swing the yoyo forward while it's on the ground, bring it right back to your hand. And that's the creeper.