Ann Connolly Yoyo Pro – On a Midsummer's Eve Yoyo Trick

Core
By: Ann Connolly
Category: Yoyo Tricks » Ann Connolly Collection »
Left Handed?
Get more help on Discord.
Ann Connolly shows off her tricks with the Canon yoyo.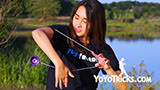 Ann Connolly Yoyo Pro – On a Midsummer's Eve Yoyo Trick
Professional yoyo player Ann Connolly shares some of her best tricks on a Midsummer's Eve with her special edition of the Canon yoyo. 
There are no yoyo tricks you need to know before learning this trick with your yoyo.