Civility Yoyo Review Yoyo Trick
By: Brian D.
Category: News » YoTricks News »
Civility Yoyo Review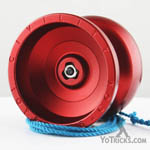 We just put out the 2014 Winter-Spring Buyer's Guide and are happy to say that the Civility Yoyo topped the list along with the Prodigy as the most recommended high-end metal yoyos.
Since the Civility yoyo was released we have heard back from many happy customers with high-praise. One review in particular caught our eye, which we felt really captured the essence of the Civility yoyo. We reached out to this reviewer to see if we could make this review available to you, and he enthusiastically agreed! Below is the review of the Civility yoyo written by Matthew Henry
Matthew's Civility Review
Look and Feel
The Civility looks very similar to One Drop Project, not surprising since Colin Leland had a big hand in designing this throw. However I should mention One Drop did not participate in the production of the Civility. The Civility has very simple elegant look to it. The finish is beautiful and the anodizing feels flawless against your skin. This throw begs for grinding, and speaking of grinding I was able to pull off thumb, finger, and arm grinds with ease. With its slightly rounded and gentle V-shape, the Civility felt very comfortable and stable in my hand. It never felt like I didn't have control of this yoyo.
Play and Performance
For a 69 gram throw one may worry that the Civility will feel too heavy during play. One might also fear that your finger will take damage during extended sessions of play. Well….. one would also be wrong! Honestly the weight distribution on this throw is great! If I did not know how much this yoyo weighed, I would have guessed it was more in the range of 66 grams rather than close to 70. I was able to go through my trick sets without issue. Speed combo, slacks, whips, and technical tricks all went smoothly. So I decided to try out this throw in the arena it was specifically designed for…..learning tricks. I chose 3 random *new* tricks off the net and attempted to learn them. I was very impressed with how this throw reacted during this experiment. During long pauses the Civility kept its very powerful spin. I was also able to correct my position on the string very easily when landing badly. During all 3 tricks there was never a time I didn't feel in control of the Civility. While spinning at the end of my string I didn't notice any wobble. It spun so smoothly and for such a long time, if it weren't for the slight clinging of my bearing I would have thought it stopped.
Final Thoughts
While the Civility does not come in a splash design colorway, nor is it the most flashy throw on the market, it definitely accomplishes what it was meant to be….a great metal throw for someone who wants to learn complicated tricks. With a price tag of just 90 bucks I would say it is competitively priced compared to other throws in its category. This fact alone might just be the tie breaker for someone who is in the market for such a yoyo. However, with better known models and brands out on the market, only time will tell how well this throw ends up selling. While I don't think it will end up as my *Favorite Yoyo Ever* I definitely have to say the Civility has found its way into my daily rotation for a very long time. The Civility is definitely a pleasure to throw and I suggest picking one up if you have the means.
Two Week Update
As an update, I am still using the Civility and it continues to be in my daily rotation. I am even thinking about buying a second one. That Civility is something to be proud of!