Mass Pandamonium Offstring Yoyo Tricks with Sean Perez Yoyo Trick
By: Sean Perez
Category: Yoyo Tricks » Sean Perez Collection »
Get more help on Discord.
8X Philippine National Yoyo Champion Sean Perez causes mass pandemonium with his crazy and wild offstring yoyo tricks.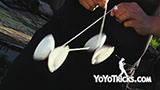 Mass Pandamonium Offstring Yoyo Tricks with Sean Perez Yoyo Trick
Track Title: Go Berzerk by Pegboard Nerds x Quiet Disorder from Nerds By Nature EP
Video Link:
https://www.youtube.com/watch?v=-7Ok0O2nQaA
iTunes Download Link:
https://itunes.apple.com/us/album/nerds-by-nature-ep/id1180739203
Listen on Spotify:
https://open.spotify.com/album/4ALxbRHMIs5DBtnUaE3hBG
Partially photographed at Olayami Dabls' MBA African Bead Museum
6559 Grand River Ave. Detroit, MI 48208
There are no yoyo tricks you need to know before learning this trick with your yoyo.