YoYoTricks.com is doing something new, teaching Kendama
By: Brian D.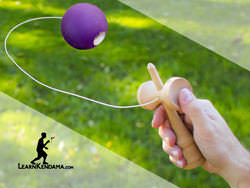 Earlier this year we were approached by Catchy Kendama. They asked us to use our experience and skills to make a kendama video tutorial website. After playing with the kendama and seeing how much fun it is, we agreed.
The kendama is a super fun traditional Japanese skill toy that closely resembles the classic ball and cup game. We spent a lot of time this year learning about the kendama and practicing tricks. We were amazed at just how much could be done with the kendama and are confident that this is something our users will love!
So, we are building LearnKendama.com.
Support Us on Kickstarter
Our long term aim with LearnKendama.com is to build the most thorough and engaging place to learn kendama on the planet. In the short term, our goal is to get kendamas into the hands of interested people, and have enough tutorials released on LearnKendama.com by Christmas to familiarize those players with the fundamentals.
To do this, we need to raise enough funds through our KickStarter campaign to launch LearnKendama.com and to supply our initial stock of products. This will allow us to make LearnKendama.com as good as possible and make tutorials for the foreseeable future.
Be a part of something new, support the LearnKendama.com Kickstarter Campaign.