YoYoTricks Discord
By: Adam B.
Join us on Discord!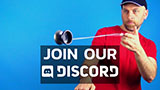 YoYoTricks Discord Yoyo Trick
Join the YoYoTricks.com Discord for the place to talk everything yoyo (and kendama, and magic, and juggling). It's a great way to get engaged with the community, get help, and stay update to on news!
There are no yoyo tricks you need to know before learning this trick with your yoyo.