Houdini Mount Yoyo Trick
By: Adam B.
Category: Yoyo Tricks » Yoyo String Trick Basics »
Tagged: Mount
Add a comment to this video on YouTube.
Learn how to do the Houdini Mount yoyo trick.
For this yoyo trick we recommend: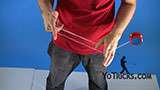 Houdini Mount Yoyo Trick
This trick is called the Houdini Mount and it looks like this.
That's it. As you can see, this trick is a whole lot like Double or Nothing, and the only real difference is that the first pass, normally with Double or Nothing you go around your finger, for the Houdini Mount you are just going to go around your thumb and then continue around and just do Double or Nothing like usual. What that allows you to do is just to unhook your thumb right here, and that brings you right back into a Trapeze.
If you want the trick to look a little bit more impressive, you can unhook your thumb right when it hits the string and it just kind of drops into it. That's why they call it the Houdini mount, because it is kind of a surprise. You thought it was just going to stay here and instead it goes into a Trapeze.
The real nice thing about the Houdini Mount is not that it is the most impressive or wild trick or anything, but it actually allows you to get into a lot of the more difficult mounts we will be showing you later.
For that reason alone it is a good one to pick up. And that is the Houdini Mount.