Kendama Pro – Cory Hendon Kendama Trick
By: Cory H.
Category: Kendama Videos »
Add a comment to this video on YouTube.
Kendama Pro player Cory Hendon uses the LK Standard to demonstrate his skills.
For this kendama trick we also recommend: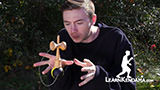 Kendama Pro – Cory Hendon Kendama Trick
Cory Hendon goes ham at kendama with the LK Standard.
There are no kendama tricks you need to know before learning this trick with your kendama.